Caliso - calibration Software from Humpage Technology Ltd





To contact us directly:

Our online text chat service enables you to contact us in real-time. We will be pleased to discuss all aspects of our software with you.

Please click on the link on the left to contact us. If no operator is available, you will be able to e-mail us.
Welcome to the Humpage Technology Ltd Website

Click here for the latest Humpage Technology News



1. Calibration Toolbox ADO is a complete, fully networkable, calibration management solution.

It is made up of three parts: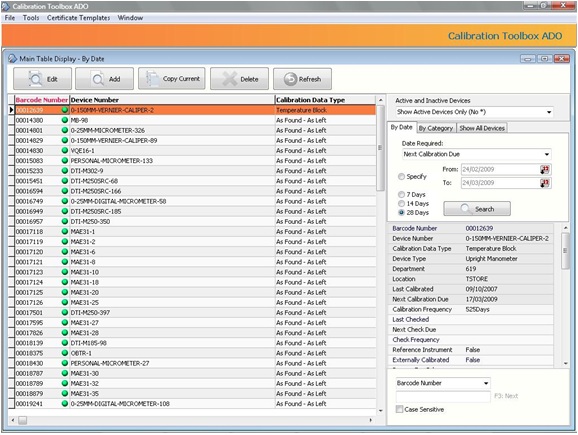 1. Our ISO17025 compliant Calibration Toolbox ADO Windows application.
2. The Web Portal for viewing data and downloading calibration certificates through browsers such as Firefox and Chrome etc.
The Web Portal is easy to set-up. Here's what you'll need:

System Requirements
At least one single-user license for Calibration Toolbox ADO (either JET/Access or SQL Server), in order to maintain your database and generate certificates etc
Microsoft Internet Information Services (IIS) server connected to the internet or your local intranet
Web browser - Internet Explorer, Firefox, Google Chrome etc
You will be up and running within minutes.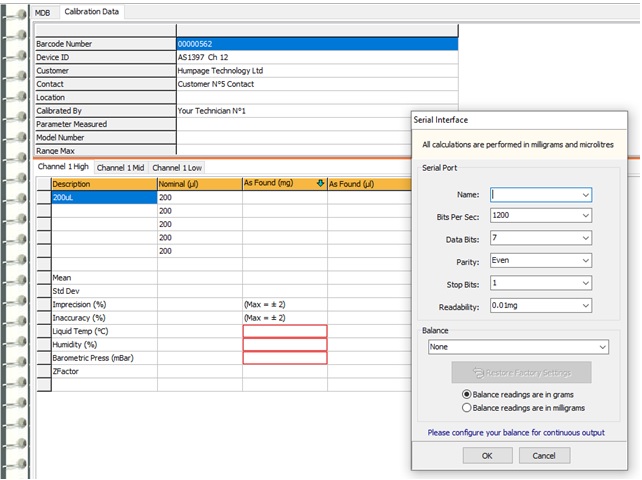 3. The Calibration Toolbox Site Technician for engineers and technicians performing remote calibration work on location.
Site Technician was developed in collaboration with experienced metrologists and calibration technicians. It is highly practical and includes support for:

+ Gravimentic pipette calibration via balance interface
+ Pressure calibration using Crystal XP2i reference via RS-232 interface
+ Calibration using any reference via our fully configurable RS-232 interface

Click here for further details

Please click here to go directly to our Software Downloads page

Humpage Technology Ltd - Training Resources
Following numerous requests from our customers and distributors, we've created a set of short video tutorials to demostrate how how simple and accurate routine pipette calibration becomes when you use Calibration Toolbox ADO and the Site Technician remote data entry module.

They are available in two standard video formats: *.mov and *.mp4: Please take a look and let us know what you think:
The Humpage Technology Youtube Channel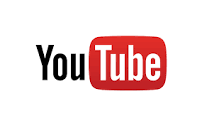 Our Youtube video channel is now open.
Video tutorials for our software and much more.

We've added our Caliso Temps and Calibration Toolbox ADO Pipette tutorials and will be adding as soon as they're ready - please check back.


We've put together a series of seven short video tutorials to enable you to get the most out of Caliso Temps. They will show you the main features of this leading temperature calibration software, from setting-up an interface, through to running a test and, finally, producing calibration certificates. They are available in two standard video formats: *.mov and *.mp4. These are supported by most PCs and a wide range of tablets.

Please let us know if you have any problems viewing these videos.
Tutorials:

Lab Interface: Connecting Equipment
Lab Interface: Webcam Support
Lab Interface: Instrument Communications and Data Interface
Lab Interface: Setting Up and Starting a Test
Lab Interface: Setpoints and Reference Temperature Stability
Builder: Designing Calibration Certificate Templates
Builder: Calculations and Generation of Calibration Certificates
Please contact us directly, or get in-touch with your local distributor, to arrange a demonstration of Caliso Temps. See how much quicker and easier your temperature calibrations can become.